Your

Bristol

Pest Control Exterminators
Get Pest Control Help Now: 0117 303 5181
Solutions in an Industry Full of Treatments
Welcome: Our approach to pest control defies the standard industry practice of "treatment only" services and offers the people of Bristol and Bath a very different pest control opportunity. The chance to solve your pest problems for good!
Working with Nature - Solving with Science!
Our passion might be pests, but our mission is simple - "Solutions That Solve". Having studied the pest management industry, listening to hundreds of customers, industry specialists and global experts, we are discovering the very best and safest methods of control - control that lasts many times longer than traditional approaches and treatments.
The Voice of Pest Control
Join us during the inspection process in your property and we will explain what we are looking for, looking at, what it it means, and how we plan to solve the problem. No cloak and dagger tactics, just indispensable information to help you understand how to get the very most from our services and maintain the control advantages our service gives you.
Stop Wasting Your Money?
Buying products on-line and off-line might bring the gratification of applying a quick fix, but these products are usually nothing more than useless herbal repellents incapable of defeating an infestation of any type or size.
What's The Answer?
What's required is an integrated approach. This simply means we work together with you, to establish a programme of elimination that the pests will be unable to conquer. Join us today, and say no to pests, no to useless remedies, and say yes to control that lasts, that solves that gives you back your home and peace of mind.
10 Great Reasons To Try Our Bristol Pest Control Services:
Local - Your genuine Bristol Pest Control business, founded here in 2007.
Free Advice - When you need it, so you can always make an informed decision.
Convenience - Evening inspections and pest treatments at no extra cost.
Value - You always get more, with offers and discounts for returning customers.
Trust - Excellent reputation, with all staff RSPH Qualified and BASIS Accredited.
Reliable - We always endeavour to arrive when promised.
Quality - Because you deserve quality, we always use the best products.
Accredited - National Pest Technicians Association Members + £5 million PL Insurance.
Training - On-going CPD ensures our service to you continues to improve.
Health & Safety - We take this very seriously and have a Written Health & Safety policy
Our Bristol Pest Control Company has been solving pest problems in Bristol for almost 10 years. Our experts quickly identify, eliminate and work to solve pest problems so they can never return. Protecting your home, loved ones and businesses from pests.
Your Peace of Mind is important to us, so all pest species: Insects, Rodents and Birds are treated quickly, discreetly and humanely.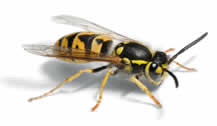 WaspKill UK - The Very Best Pest Control Extermination Advice and Solutions:
Bristol Pest Control Advice: Getting rid of Wasps and other pests like Rats, Cluster Flies and Silverfish is not as simple as many pesticide manufacturers will lead you to believe. The chemicals or poisons on offer in supermarkets and shops often have a fraction of the effect that is achieved through professional products and this means you are likely to get through many cans of treatment without actually achieving full control. As the only Bristol Pest Control exterminator offering a dedicated insect control service, we are able to deliver solutions that are guaranteed to work.
Environmental health services, are all about understanding the pests you are trying to eliminate or prevent so you can make the environment less conducive to them. The Wasp for example creates a wasp nest early in the year so if you wanted to control wasps in Bristol you would probably guess that checking for a new wasp nest in your loft in April and May would allow you to remove a wasp nest safely before it became too large. By understanding your pest, you are able to plan control in advance, before infestation occurs and the cost of elimination becomes high.
WaspKill UK are always here to help - so why not give us a call or visit our Bristol Pest Control Blog.
Areas our Bristol pest control & Rodent removal services cover in Bristol and Somerset include:
Abbots Leigh - Backwell - Barrow - Bath Pest Control - Bedminster - Bedminster Down - Bishopsworth - Bradley Stoke - Bristol - Chew Magna - Chew Stoke - Cleeve - Clifton - Clifton Wood - Congresbury - East Harptree - Failand - Farleigh - Filton - Flax Bourton - Ham Green - Leigh Woods - Long Ashton - Patchway - Pill - Sneyd Park - Southville - West Harptree - Whichurch - Wraxall and Yatton.
WaspKill UK Pest Control
2 Brinkworthy Road
,
Bristol
,
City of Bristol
,
BS16 1DP
Phone:
0117 303 5181