Bristol

Masonry Bee Control
Bristol Masonry Bee Control
Eliminate Masonry Bees: CALL NOW - 0117 303 5181
What Are Mason or Masonry Bees?
Masonry bees or mason bees as they are also known are bees that attack the old or badly maintained mortar between the bricks of a house. For this reason bees in walls or in bricks are a common problem during the spring and early summer, across Bristol.
There are many differnt species Masonry Bee in the UK, but all cause damage to structures. In most cases this damage is only slight, but in a small percentage, this damage is significant requiring structural repairs. Getting rid of bees in walls is not as simple as it seems because each hole needs to be treated and many bee infestations involve hundreds of holes requiring pest control activities to remove and destroy the bees causing concern.
Getting Rid Of Masonry Bees - is it legal?
Yes - But in our opinion control should be more tightly regulated.
Do Masonry Bees Produce Honey?
No - They are solitary not social and are different in a number of ways to Honey Bees.
Are Masonry Bees Dangerous?
Masonry bees do have a sting and we have heard reports from our customers that they have been stung by these bees. in general a couple of bees is not much to be concerbned about - however if you have dozens of bees they may cause structural damage to your proprty, meaning that water can get in and over time structural integrity could be compromised, thus requiring large bills for repairs.
What Should I do If I'm Stung?
Call Our Local Bristol Number - 0117 303 5181
10 Great Reasons To Try Our Bristol Masonry Bee Control Service:
Local - You are supporting a local Bristol Masonry Bee Control Business With No annoying Call centres
Value - You Will save money on any future treatments with our loyalty programme
Trust - We have an excellent reputation, with RSPH Qualified and BASIS Accredited Staff
Convenience - You benefit from our weekend and evening availability
Reliable - We always endeavour to arrive when promised
Quality - All your work is done properly - we never take short cuts or use low quality materials
Code Of Practice - We adhere to the BPCA code of practice - £5 million PL Insurance.
Free Advice - When you need it, so you can always make an informed decision
Training - On-going CPD ensures our service to you continues to improve
Health & Safety - We take this very seriously and have a Written Health & Safety policy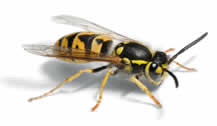 WaspKill UK - The Very Best Pest Control Extermination Advice and Solutions:
Bristol Masonry Bee Advice: Getting rid of Wasps and other insects like Bumble Bees, Wasps and Rats is not as simple as many pesticide manufacturers will lead you to believe. The chemicals or poisons on offer in supermarkets and shops often have a fraction of the effect that is achieved through professional products and this means you are likely to get through many cans of treatment without actually achieving full control. As the only Bristol Masonry Bee exterminator offering a dedicated insect control service, we are able to deliver solutions that are guaranteed to work.
Environmental health services, are all about understanding the pests you are trying to eliminate or prevent so you can make the environment less conducive to them. The Wasp for example creates a wasp nest early in the year so if you wanted to control wasps in Bristol you would probably guess that checking for a new wasp nest in your loft in April and May would allow you to remove a wasp nest safely before it became too large. By understanding your pest, you are able to plan control in advance, before infestation occurs and the cost of elimination becomes high.
WaspKill UK are always here to help - so why not give us a call or visit our Bristol Pest Control Blog.
Areas our Bristol pest control & Rodent removal services cover in Bristol and Somerset include:
Abbots Leigh - Backwell - Barrow - Bath Pest Control - Bedminster - Bedminster Down - Bishopsworth - Bradley Stoke - Bristol - Chew Magna - Chew Stoke - Cleeve - Clifton - Clifton Wood - Congresbury - East Harptree - Failand - Farleigh - Filton - Flax Bourton - Ham Green - Leigh Woods - Long Ashton - Patchway - Pill - Sneyd Park - Southville - West Harptree - Whichurch - Wraxall and Yatton.

WaspKill UK Pest Control

2 Brinkworthy Road

,

Bristol

,

Bristol City of

,

BS16 1DP

Phone:

0117 303 5181